Lecturer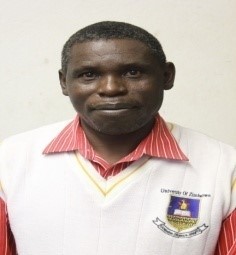 Eng. Clement S. Shonhiwa
MSc. In Chemical Engineering (UCLV –Cuba), Certificate in boiler Operations (City and Guilds), MSc. (Renewable Energy – UZ), DPhil – Science –"Patent: Jatropha Biodiesel
Email This email address is being protected from spambots. You need JavaScript enabled to view it.
Mobile: (+263-773 485 140
Academic Qualifications
Year Qualification
1994 MSc. In Chemical Engineering (UCLV –Cuba)
1998 Certificate in boiler Operations (City and Guilds)
2001 MSc. (Renewable Energy – UZ)
2012 (understudy) DPhil – Science –"Patent: Jatropha Biodiesel Production Plant".
Posts held
1994 to 1997 High School Teacher – Munyoro Sec. School
1997 to 2003 High School Teacher – Bonda Girls High School
2003 to 2004 Lecturer – Masvingo Polytechnic
2004 to 2006 Chinhoyi University of Technology
2005 to 2009 Production Manager – Finealt Engineering
2009 to present Lecturer – Department of Mechanical Engineering (UZ), Renewable Energy Consultant – Green Fules Zimbabwe, Zimbabwe National Army, Ministry of Science and Technology
KEY QUALIFICATIONS
BSc., MSc.- Chemical Engineering and Renewable Energy
PUBLICATIONS
1. Shonhiwa C.S. Gudyanga F.P and Chiguvare Z. Parametric Optimization of a Continuous Flow Biodiesel Reactor or Economic Biodiesel Production from Jatropha Curcas Seed Oil. Pages 115-140 International Union for Pure and Applied Biophysics (IUPAB), 2011.
2. Shonhiwa C.S. Chiguvare Z. and Gudyanga F.P. Jatropha Biodiesel as Alternative Transport Fuel in Zimbabwe. Aspects of Biodiversity. Pages 160- 175 The Royal Society of Chemistry UK – ISBN: 978-1-84755-948-7, 2010
3. Gudyanga, F.P, Shonhiwa C.S. and Chiguvare Z.The roles of Jatropha in biodiesel and sustainable development in Africa.Science Technology, and Innovation for Socio-Economic Development – Success Stories from Africa. Pages 141-158 ICSU Regional Office for Africa –ISBN 9780620457415, 2009
4. Shonhiwa C.S., Gudyanga F.P. and Chiguvare Z. Kinetic Modeling of Transesterification of Jatropha Curcas Seed Oil in a Biodiesel Batch Reactor. Pages 12-13 Journal of Applied Science in Southern Africa (JASSA) UZ. ISSN 1019-7788, 2009
5. Shonhiwa C.S. Chiguvare Z and Gudyanga F.P Continuous Flow Reactor Using Reactive Distillation Technique For Economic Biodiesel Production In Zimbabwe. Pages 15-32 Research Council of Zimbabwe (RCZ) - RCZ 8th Symposium Proceedings 2009.
6. Zhuga T.A, Munyaradzi B. and Shonhiwa C.S. Design of Alternative Energy Systems: A Self-Starting Vertical Axis Wind Turbine for Stand Alone Application Pages 115-126. JSTOR 2009