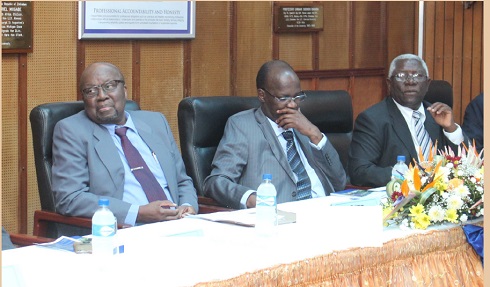 A commitment to accelerate the advancement of knowledge, and to continue building a research, teaching and learning environment that provides practical
solutions to societal challenges is at the heart of the University of Zimbabwe 2016-2020 Strategic Plan.
The Honourable Minister of Higher and Tertiary Education, Science and Technology Development, Professor Jonathan N. Moyo officially launched the Strategic Plan at a colourful ceremony held Monday, 20 March 2017 in the Council Room, University of Zimbabwe. "…against the backdrop of significant strides that UZ has made in recent years, I have no doubt that the University of Zimbabwe is now ready to break new ground and to standout as one of the top universities in Africa. This is the new promise that makes today's launch of the new UZ Strategic Plan a milestone moment. It is a milestone moment because, as Ministry, we believe that the UZ is now ready 'to be a leading centre of innovative higher education, cutting edge research and service provision that is responsive to the developmental needs of Zimbabwe and beyond'", said the Honourable Minister as he addressed the audience that comprised senior government officials, members of the Univeristy of Zimbabwe Council, University of Zimbabwe faculty, staff and students.
Speaking at the same occasion, the Chairman of the University of Zimbabwe Council, Ambassador Buzwani Don Mothobi, gave highlights of the document as well as chronicling the importance of the Strategic Plan in providing direction to University business in the next five years. Said Ambassador Mothobi, "By listening to many voices, we have created a Plan that embraces the University of Zimbabwe's tradition of encouraging and empowering students and staff to explore big questions and find original solutions in their quest to contribute meaningfully to the development aspirations of our people….With the commitment of all stakeholders, we will ensure that the University is a place where scientists, engineers, technologists, philosophers and fearless dreamers come together to sustain our country, and the world at large". The Vice Chancellor, Professor Levi Martin Nyagura also echoed his administration and management's commitment to ensuring full implementation of the Strategic Plan. Remarked the Vice Chancellor, "…I want to assure you all, that as management, we are fully committed to the success of this Strategic Plan, and to catapult the Univeristy of Zimbabwe to its rightful place among the league of top universities in the region, the continent and the globe. I…implore you all our stakeholders to 'walk with us' as we seek to take the Univeristy of Zimbabwe to greater heights through the implementation of the 2016-2020 University of Zimbabwe Strategic Plan".