Senior Lecturer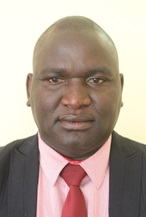 Dr M. Mundau
Key Research Areas: Child protection, Social security, Community development and livelihoods
Contact:
Email: This email address is being protected from spambots. You need JavaScript enabled to view it. This email address is being protected from spambots. You need JavaScript enabled to view it.
Cell: +263 785 343 512
Publications
Manonomano, T. and Mundau, M. (2017). Preserving Human Dignity: Promises and Pitfalls: A South African Perspective. International Social Work, 60(6), 1358-1369.
Tanga, P. T &Mundau, M. (2014). The impact of donor-funded community empowerment projects on poverty alleviation in Zimbabwe. Perspectives Of Global Development And Technology Journal, 13 (4): 465-480.Doi10.1163/15691497-12341312.
Kang'ethe. S. M., Mundau. M. &Manomano. T. (2015).Exploring the Extent to which Child Support Grants (CSG) Meet the Needs of the Beneficiaries in South Africa: The Case of the 2010 Study in Ntselamanzi Village, Eastern Cape Province. Kamla-Raj, Stud Tribes, 13(1): 66 – 72 (2015).