Chairperson & Lecturer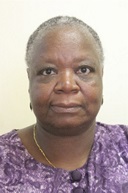 Mrs P.D. Motsi
MSc in Social Work; BSc in Social Work Dipl in Social Work D Phil Candidate
Key Research Areas: women, HIV/AIDS and gender mainstreaming, child welfare and protection work
Contact:
Email: This email address is being protected from spambots. You need JavaScript enabled to view it. This email address is being protected from spambots. You need JavaScript enabled to view it.
Cell: +263 772 422 217
Publications
Motsi, P.D (2011) Seeking the Balance between HIV Prevention Programmes and Tradition, with Respect to Married Shona Women in Zimbabwe; A Social Work (2011) Perspective, Lambert Publications – Book ISBN 9783844390711
Motsi P.D: "Traditional Practices and the Uptake of Female Condoms in Zimbabwe" Journal of Emerging Trends, Educational Research and Policy Studies (JETERAPS) Vol 3: pp 365-370
Motsi, P.D (2012) The Sin of the People of Lot- Homosexuality in Zimbabwe: A Social Work Voice" Lambert Publication - Book ISBN 9783845400372
Motsi, P.D2013) "The 'Politics' of Sexual Identities in Zimbabwe: A Social Work Perspective" International Journal of Humanities and Social Sciences: Volume 2 No.13, pp 138
Motsi P.D (2013) Mabvurira V.and Masuka T.(2013) An Analysis of Social Casework Dimensions in Africa ; International Journal of Physical and Social Sciences, Volume 3, No.1 January 2013 pp114-124
Motsi, P.D. (2012) Integrated Agricultural Research for Development in the Context of Gender Differentiation: Improving the Economic status of female-headed Households Among Zimbabwe's Smallholder Farmers. Journal of Social Development in Africa.
Takaza. S, Motsi P.D, and Chabongora. B (2015) An Evaluation of Partnerships That Exist Between Statutory and Voluntary Organizations: The Case Study of CRS and CARITAS Zimbabwe, International Organization of Scientific Research( IOSR): Journal of Humanities and Social Sciences- Vol 20, Issue 1 Ver. V (Jan.2015) pp 21-27 ISSN: 2279 – 0837, P.-ISSN: 2279-0845.
Motsi P.D. Mabvurira, V. and Masuka T. (2013) A critical analysis of social casework dimensions in Africa – the Case for Zimbabwe; International Journal of Multi-disciplinary Research Academy (IJMRA) Volume 4, No. 2 April, 2013 pp 304-311
Dhlembeu, N., Motsi, P.D. and Mhiribidi, S.(2015) Post-Qualifying Training Framework for Probation Work In Zimbabwe, Government of Zimbabwe – Manual
Motsi, P.D. and Dziro, C. (2015) Module on Post Qualification and Assessment of Foreign Trained Social Workers and their Suitability for Professional Practice in Zimbabwe. Council for Social Workers in Zimbabwe Publication.
Chatiza,K. Marongwe, N., Motsi, P.D., Dhlembeu, N.and Mushamba, S. (2014) Baseline Survey of Children in Need of Care: Residential Child Care Facilities. Harare: Government of Zimbabwe Publication.