Lecturer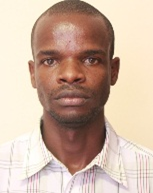 Mr Edgar Muhoyi
Qualifications: BSc (Hons) Economics, UZ; MSc Economics, UZ
Email address: This email address is being protected from spambots. You need JavaScript enabled to view it.
EXTENSION: 14284
Research Interest: Development Economics, Labour Economics, Microeconomics and Macroeconomics.
Publications
Ndedzu, D., Kunguma. I, Muhoyi, E and IM. Mavesere (2012). Household Demand for Improved Water Supply Services in High Density Urban Areas: The Case of Mabvuku in Harare, Journal of Strategic Studies, Vol. 3, No. 1 (126-140), ISSN: 2076-6645
Pindiriri, C and Muhoyi, E. (2012). An Assessment of Vocational Training and Youth Employment in Zimbabwe, Zambezia Journal of Social Sciences, 38(I): 77-94 (ISSN: 0379-0622).