Senior Lecturer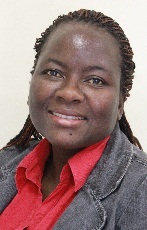 Dr R. Mate
Key Research area: Youth Studies Development; Sexuality and related issues
Email: This email address is being protected from spambots. You need JavaScript enabled to view it.">
Publications
Book Chapters
1. Mate, R (2009) "Of perfumed lotions, biscuits and condoms: Youth, femininity, sexuality and HIV and AIDS prevention in rural Gwanda district, Zimbabwe" - Youth, HIV/AIDS and social transformation in Africa CODESRIA, Dakar, Senegal pp77-100
2. Mate, R- 2005-"Stillborn in Harare: attempts to privatize water in a city in crisis". The age of commodity: Water privatization in Southern Africa Earthscan, London pp-225-239
3. Mate, R- 2002-"Land, women and sugar in Chipiwa". Women, men and work in rural livelihoods, South-eastern Zimbabwe Weaver Press, Harare pp37-60
4. Mate, R- 1996- Juggling with land labour and cash: strategies of some resilient farmers" in Emmanuel Manzungu and Pieter van der Zaag (eds) The practice of smallholder irrigation: cases from Zimbabwe.University of Zimbabwe Publications, Harare, pp148-160.

Journal articles
1. Mate, R (2012) "Youth lyrics, street language and the politics of age: contextualizing the youth question in the Third Chimurenga in Zimbabwe', Journal of Southern African Studies, vol 38, no 1.
2. Muchini, B., C. Benedikt, S. Gregson, E Gomo, R. Mate, O. Mugurungi, T. Magure, K. Denhe, D. Halperin (2011) "Local perceptions of forms, timing and causes of behavior change in response to the AIDS epidemic. Zimbabwe in AIDS Behavior vol.15 pp 487-498.
3. Mate, R (2005) "Making ends meet at the margins?: Grappling with economic crisis and belonging in Beitbridge town, Zimbabwe' CODESRIA Monograph Series, Dakar, Senegal
4. Mate, R (2002) "Wombs as God's laboratories: Pentecostal discourses of femininity in Zimbabwe". Africa, vol 72, no 4, pp 449-568
Mate, R (1998) "Gender insensitivity and male bias in local advertising". Southern African Feminist Review (SAFERE) vol 3 no 1 pp67-70