Teaching Assistant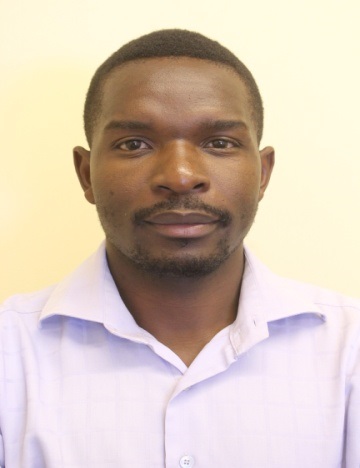 Mr. S. Dumba
BScHRUP, UZ, MILT, S.M.ASCE
Key Research Areas:- Traffic Planning, Public Transport and Transport-Land use Interaction
Email: This email address is being protected from spambots. You need JavaScript enabled to view it.
Cell: +263 775 682 351
Publications
Refereed Journals
1. Smart Dumba and Innocent Chirisa (2010).,The Plight of Illegal Migrants In South Africa: A Case Study Of Zimbabweans in Soshanguve Extension 4 and 5, International Journal of Politics and Good Governance Volume 1, No. 1.2 Quarter II ISSN No. 0976 – 1195.
2. Innocent Chirisa and Smart Dumba (2012)., Spatial planning, legislation and the historical and contemporary challenges in Zimbabwe: A conjectural approach, Journal of African Studies and Development Vol. 4(1), pp. 1-13, February 2012.
3. Innocent Chirisa, Smart Dumba and Tamuka, J Mukura (2012)., Innovative,
Adaptive and Survivalist Strategies by Small Business Enterprises in
Zimbabwe (1990–2009): Implications for Policy and Planning,
International Journal of Academic Research In Business and Social Sciences Vol. 2 (4) of IJ-ARBSS.
4. Innocent Chirisa and Smart Dumba (2012).,Intelligent Cities and Infrastructure: An inquiry into accessibility and usage of ICTs by the poor in Zimbabwean Cities, Global Journal for Information Technology and Computer Science, Vol.1 (1)
5. Innocent Chirisa, Smart Dumba and Buhle Dube (2013)., Servicing the Needs of Inflating Population at Growth Points in Zimbabwe? Spatio-Temporal and Economic Considerations, Journal of Sustainable Development Studies, Vol 4 (1) pp36-52. ISSN 2201-4268
6. Innocent Chirisa and Smart Dumba (2012).,The political Economy of Spatial Planning in Matabeleland South Region, Zimbabwe, Journal of Regional Development Studies, United Nations Centre for Regional Development, Nagoya, Japan, Vol.16.
7. Smart Dumba (2014)., Old Wine in new Wineskins? Evidence from the Zimbabwe National and City Transport Policy, International Journal of Urban Planning and Transportation, Vol.28, Issue.1. ISSN:2051-9281,
8. Mbara, Tatenda., Dumba, Smart and Mukwashi Tapiwa (2014), 'Multi-stakeholder dialogue on formal and informal forms of public transport in Harare, Zimbabwe: Convergence or Divergence perspective', Journal of Transport and Supply Chain Management 8(1)
Contribution to Book Chapter
1. Jemitias Mapira and Innocent Chirisa (eds) (2012)., Urbanisation in Zimbabwe: Selected Cities. EpiCentre Stories Publishers. ISBN: 978-1-938609-12-1 at an angle
2. Contributed a subsection entitled 'Urban Public Transport' in Chirisa, I; Mutsindikwa, N.T; Chanza, N; Dumba, S; M Gaza and Bowora, J., 'Technocracy, Rationality and Post-Coloniality in Zimbabwe: Zooming on selected issues, in Chirisa I (ed) (2013)., Contemporary Rural and Urban Issues In Zimbabwe: Implications for Policy and Planning. Academia Press, Cambridge station ISBN: 978-1-93632-055-4.
Contribution to Newspaper and Newsletter Columns
1. Smart Dumba (2013)., Congested City: Streets Blamed, in Harare News, Issue 4, October 2013, Harare News (Pvt) Ltd.
2. Smart Dumba (2014)., Transport Planning in the 21st Century, in the Zimbabwe Institute of Regional and Urban Planners (ZIRUP) Newsletter, Issue Number 1, January-March 2014.
3. Smart Dumba (2015)., "30 000 vehicles face deregistration", The Sunday Mail, 23 August 2015. Zimpapers.
Papers Presented At Conferences and Workshops
1. Tatenda Mbara, Smart Dumba and Tapiwa Mukwashi (2013)., Convergence or divergence perspective: multi-stakeholder dialogue on formal and informal forms of public transport in Harare, Zimbabwe. Paper presented at the 13th International Conference on Competition and Ownership in Land Passenger Transport held at St Anne's College, University of Oxford, UK from Sunday 15 to Thursday 19 September 2013.
2. Smart Dumba (2014)., Transport in Harare: Present State, Challenges and Future Policy Directions. Paper presented at Environmental Management and Town Planning Issues Workshop, Kadoma Hotel and Conference Centre, 5-8 September, 2014.
3. Smart Dumba (2014)., Urban public transport in Harare: A policy analysis perspective. Paper presented at "The Transport Convention" - Debating the Urban Public Transport Challenges in view of the new National Transport Policy, Jameson Hotel, Harare, 1-2 October 2014.
4. S. Dumba, L-D. Vassileva and T. Gumbo (2016)., Methodological issues in modeling signalised intersection capacity under informal public transport operations: case study, Harare, Zimbabwe. Paper presented at the World Conference on Transport Research Society, 10-15 July, 2016, Shanghai, China.