Senior Lecturer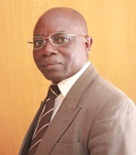 Dr Z.W. Sadomba
Key research areas: Political and sociological issues of land in Zimbabwe
Contact:
Email: This email address is being protected from spambots. You need JavaScript enabled to view it.; This email address is being protected from spambots. You need JavaScript enabled to view it.
Cell: 0772 996 372
Journal Articles
1. Mujeyi, K., Mutambara, J., Siziba, S., Sadomba, W. Z., and Manyati, T. K. (2015). Entrepreneurial innovations for agricultural mechanisation in Zimbabwe: Evidence from an informal metal industry survey. African Journal of Science, Technology, Innovation and Development, 7(4), 276- 285.
2. Sadomba W. Z., Chigwanda., B., Manyati T. (2015). Education in the Crucible of a Postcolonial Revolution: Community Reaction of Challenges of Zimbabwe's Crisis. Journal of Social Dynamics
3. Sadomba WZ and Zinyemba L. (2014). Socio-cultural Foundations of Caregiver Compliance: Lineage and community networks in Zimbabwe's healthcare system. Asian Journal of Humanities, Arts and Literature
4.
Makate, C., Siziba, S., Mulambo, N., Sadomba W. Z., Mango, N., Makate, M. (2014). Technical Efficiency Performance of Metal Fabricating Small to Medium Enterprises (SMES) In Zimbabwe: Implications for Agricultural Development. Journal of Entrepreneurship, 2(8).
5. Sadomba W.Z. (2007). Philosophical Conflicts in Zimbabwe's Land Occupations: Indigenous African Peasant vs European capitalist agrarian jurisprudence, Journal of African Philosophy, summer.
6. Sadomba, W. Z., and Helliker, K. (2010). Beyond instrumentalism: Farm Workers, Social Movements and NGOs in Zimbabwe. Journal of Asian and African Studies (JAAS), XX(X), 1-17.7
7. Sadomba W.Z. (2009). Peasant Occupations within War veterans-led Occupations: Grassroots conflicts and state reaction in Zimbabwe, Journal of Peasant Studies, 36(2).
8. Sadomba W. Z., and Andrews, N. (2006). Zimbabwe: Land Hunger and the War Veteran-led Occupations Movement in 2000, Critique. Internationale Journal (France), 31, 126-144.
9. Sadomba W.Z. (1996). Retrospective Community Mapping - A tool for community education, IIED, PLA Notes, 25, 3 –11.
10. Sadomba W.Z. (1993). Health Beliefs, Traditional Knowledge and Perception of Diarrhoea in Rural Zimbabwe, with others. Medicus Mundi Bulletin (Switzerland).
Book Chapters
Published
1. Sadomba W.Z., (2014). Application of African in Zimbabwe's Land Revolution, in Mararike 2014 (ed.)
2.
Sadomba W.Z. (2013). A Decade of Zimbabwe's Land Revolution: The politics of the War Veteran Vanguard. In Moyo, S., and Chambati, W. (Eds) (2013). Land and Agrarian Reform in Zimbabwe: Beyond white-settler capitalism. Dakar: CODESRIA.
3. Sadomba WZ, (2008). Movements within a movement: Complexities of Zimbabwe's land occupations. In Helliker, K. (ed.) (2008). Contested Terrain:
Land and civil society in contemporary Zimbabwe. Harare: S & N Publishers.
4. Sadomba W.Z. (1996). Use of Taboos and Proverbs as Oral Archives of Indigenous Knowledge: A participatory method for identifying and collecting IK. In MSc. Reader for Participatory Methods at Wageningen Agricultural University.
Accepted for Publication
1. Sadomba, W. Z., and Wakandigara A. Towards a new Methodology for Unearthing African 'Science': Using taboos and proverbs as computers.
Research Council of Zimbabwe, forthcoming.
2. Sadomba W. Z. Potential of African Philosophy in Conflict Resolution and Peacebuilding. In Moyo, S and Mine, Y. (eds). (2016) What Colonialism Ignored: African Potentials for Resolving Conflicts in Southern Africa. Yaounde: Langaa RPCIG.
3. Sadomba W.Z. (2016). Urban Informal Sector and Africa Potentials: From Zimbabwe's Metal Manufacturing Industry (in Japanese, translated by M.
Matsuda). In Matsuda, M., and Hirano, M. (Eds.). (2016). African Potentials Series Vol. 1,8 Socio-Cultural Potentials for Conflict Resolution and Co-existence (in Japanese),
Kyoto University Press.