Chaiperson & Lecturer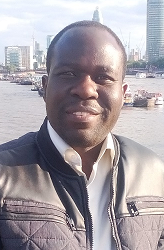 Dr James January
PhD; MSc; BSc (Hon)
Research Interests: Public Mental Health
Areas of Specialization: Mental Health Promotion, Clinical Psychology
Email: This email address is being protected from spambots. You need JavaScript enabled to view it. or This email address is being protected from spambots. You need JavaScript enabled to view it.
Departmental General Overview
The Department of Community Medicine (DCM) is one of the oldest departments in the College of Health Sciences and started training in public health in 1973. Since then the Department has been training public health practitioners including health promotion practitioners, biostatisticians, epidemiologists as well as occupational safety and health practitioners. The Department of Community Medicine is situated at University of Zimbabwe College of Health Sciences which is found at Parirenyatwa Hospital in Harare. We are in the 3rd floor, New Health Sciences Building. The Department's establishment consists of 1 Professorial Chair and 17 lecturers. It is currently headed by Dr. James January. It is a service department teaching key courses such as public health, biostatistics, epidemiology, research methods and health informatics across the College of Health Sciences. It has also spearheaded the training in computer literacy of the entire College of Health Sciences through the ICDL course for both students and staff. The department also runs short courses for the professional development of staff and students. Such short courses include:
Basic and Advanced Biostatistics

Research Methods

Basic and Advanced Epidemiology

Principles of Public H

ealth

Major public health issues, including HIV and AIDS, TB, Malaria

Elements of health systems, health financing and human resources for health

Zimbabwe's health services at national, district and primary health care level

Community and non health sector roles in health

Public health law
The Department of Community Medicine has over the years run several community health intervention projects such as the Leadership Management and Governance Project, the Zimbabwe Community Health Intervention Research Project, the Church Schools Project, and SEAM project among many others.
Mission
1. To train health professionals in identifying public health problems and selecting appropriate health interventions focusing on:
Promotive

Preventive

Curative

and rehabilitative aspects of health care delivery in their communities

Analytical skills in research
2. To help the Zimbabwe Ministry of Health and Child Care create a permanent capacity to recruit, train, and use public health practitioners to sustain the public health infrastructure and improve delivery of services at national, provincial, district and municipal health authority levels.
Vision
The Department of Community Medicine is committed to the concept of a healthy population, having highly competent health care professionals with leadership qualities to achieve a better quality of life. We envision to improve health and health equity in Zimbabwe; working in partnership with the Ministry of Health and Child Care to achieve excellence in public health research, education and translation of knowledge into policy and practice.
Contact Details
Physical Address
Department of Community Medicine
University of Zimbabwe College of Health Sciences
3rd Floor, New Health Sciences Building
Parirenyatwa Hospital, Mazowe Street
Harare
Zimbabwe
Postal Address:
Department of Community Medicine
University of Zimbabwe College of Health Sciences
P O Box A178
Avondale
Harare
Zimbabwe
Tel: +264-242-795835/791631/707707/731000/730553
Email: This email address is being protected from spambots. You need JavaScript enabled to view it.