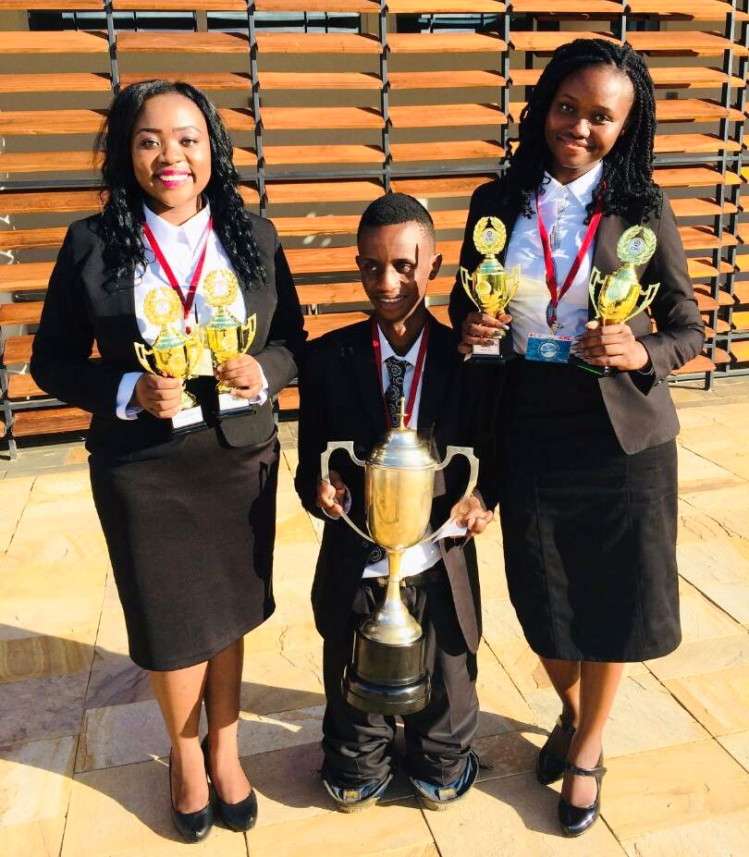 The Vice Chancellor, Professor L.M. Nyagura is proud to announce that the University of Zimbabwe Faculty of Law Moot team won the All Africa International Humanitarian Law Moot Court Competition in Arusha, Tanzania on Saturday, 25th November 2017. This is a very prestigious Pan-African Moot Court competition which is open to participation by Law schools from all regions of the African continent. To earn the right to represent Zimbabwe at the continental competition, the University of Zimbabwe team comprising Farai Chinyama, Nathanael Kudzai Manjoro and Farirai Sinothando Sibanda (pictured), thrashed Midlands State University, Great Zimbabwe University and Ezekiel Guti Law Schools at the national championships before a panel of four judges chaired by the Judge President, Justice Chiweshe. In Arusha, the team fiercely shrugged off competition from 45 Anglophone, 6 Francophone, 3 Lusophone and 2 Asian Law Schools to clinch the continental title.
In the national preliminaries, finals and the grand finale in Arusha, Farai Chinyama was voted the Best Orator. Since the University of Zimbabwe started participating in the competition in the last ten years, its successive teams have now won the Arusha Pan-African Moot Court competition in International Humanitarian Law (IHL) four times in 2007, 2009, 2011 and 2017, and the national championships eight times, an unprecedented string of national wins. Both the domestic trophy and the Pan African Arusha trophies are sponsored by the International Committee of the Red Cross (ICRC).
The African Human Rights Moot Court Competition is the largest gathering of law students, academics and judges around the theme of human rights in Africa. The annual continental showcase brings together all faculties in Africa, whose top students argue a hypothetical human rights case as if they were before the African Court on Human and People's Rights. The competition seeks to prepare a new generation of lawyers to argue cases of alleged human rights violations before the African Court.
An elated Mr Magade, Dean of the Faculty of Law and Zimbabwe Electoral Commissioner had this to say about the team's stellar performance, "This exceptional achievement is evidence that the University of Zimbabwe is indeed the 'Global Faculty of Law in Africa'. It is gratifying that our standards in terms of legal education and training are among the best on the continent. Some of our previous winners in this competition such as Advocate Thabani Mpofu and Advocate Fadzai Mahere have since become household names on our legal landscape. Both the domestic and international Moot Courts give our students a perfect opportunity and platform to argue cases in a very practical environment. In Arusha some of the judges are the ones presiding over the genocide cases".