DEPARTMENTAL CHAIRPERSON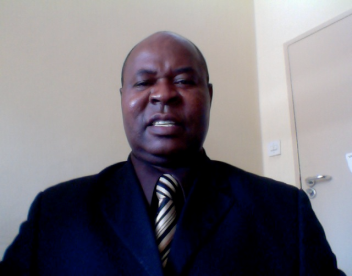 Name: Professor Simbarashe Rusakaniko
Email Address: This email address is being protected from spambots. You need JavaScript enabled to view it.
Qualifications: MSc, PhD
Research Interests: Modeling of HIV and TB data. Adolescent Reproductive Health
Research Publications (for the past three years):
Tonderai Mapako, David A Mvere, McLeod E Chitiyo, Simbarashe Rusakaniko, Maarten J Postma and Marinus van Hulst, 2013; Human Immunodeficiency Virus prevalence, incidence, and residual transmission risk in first-time and repeat blood donations in Zimbabwe: implications on blood safety.

Transfusion,

1 -9.
Winnie Ruseno, Denise Dion Hallfors, Hyunsan Cho, Bonita Iritani, Joel Adze, Simbarashe Rusakaniko, Isabella Mbai, Benson Milimo and Marcia Hobbs, 2014; Use of HIV and HSV-2 Biomarkers in Sub-Saharan Adolescent Prevention Research: A Comparison of Two Approaches.

The Journal of Primary Prevention

35: 181-191.
Foster, Geoff, Abigail Kangwende, Vhumani Magezi, Talent Maphosa, Richard Mashapa, Fadzai Mukora-Mutseyekwa, Angela Mushavi, Simba Rusakaniko, Bridget Shumba, and Pemberai Zambezi, 2014; Cluster Randomized Trial on the Effect of Mother Support Groups on Retention-in-Care and PMTCT Outcomes in Zimbabwe: Study Design, Challenges, and National Relevance.

J Acquir Immune Defic Syndr

67: S145-S149.
Alexio-Zambezi Mangwiro

Kudzai Makomva

Antoinette Bhattacharya

Gaurav Bhattacharya

Tendai Gotora

Mila Owen

Angela Mushavi

Douglas Mangwanya

Sekesai Zinyowera

Owen Mugurungi

Simukai Zizhou

William Busumani

Nyasha Masuka

.

Does Provision of Point-of-Care CD4 Technology and Early Knowledge of CD4 Levels Affect Early Initiation and Retention on Antiretroviral Treatment in HIV-Positive Pregnant Women in the Context of Option B+ for PMTCT?

(

Nov 2014) JAIDS Journal of Acquired Immune Deficiency Syndromes
Rutendo B. L. Zinyama-Gutsire, Charles Chasela, Hans O. Madsen, Simbarashe Rusakaniko, Per Kallestrup, Michael Christiansen, Exnevia Gomo, Henrik Ullum, Christian Erikstrup, Shungu Munyati1, Edith N. Kurewa, Babill Stray-Pedersen, Peter Garred and Takafira Mduluza, 2015; Role of Mannose-Binding Lectin Deficiency in HIV-1 and Schistosoma Infections in a Rural Adult Population in Zimbabwe. PLOS ONE DOL:10.1371/Journal.pone.0122659 1-23
Winnie Luseno, Lei Zhang, Simbarashe Rusakaniko, Hyunsan Cho and Denise Hallfors, 2015; HIV infection and related risk behaviors: does school support level the playing field between orphans and nonorphans in Zimbabwe?

AIDS Care

, 1-5.
Tonderai Mapako

Mart P. Janssen

David A. Mvere

Jean C. Emmanuel

Maarten J. Postma

Marinus van Hulst

.

Impact of using different blood donor subpopulations and models on the estimation of transfusion transmission residual risk of human immunodeficiency virus, hepatitis B virus, and hepatitis C virus in Zimbabwe.
Dixon Chibanda

Tarryn Bowers

Ruth Verhey

Melanie Abas

Helen A Weiss

Ricardo Araya

.

The Friendship Bench programme: A cluster randomised controlled trial of a brief psychological intervention for common mental disorders delivered by lay health workers in Zimbabwe (

December 2015) International Journal of Mental Health Systems
Rutendo B L Zinyama-Gutsire

Charles Chasela

Per Kallestrup

Michael Christiansen

Bernard Ngara

Exnevia Gomo

Henrik Ullum

Christian Erikstrup

Hans O Madsen

Babill Stray-Pedersen

Peter Garred

Takafira Mduluza

.

HIV-1 Disease Progression and Survival in an Adult Population in Zimbabwe: Is There an Effect of the Mannose Binding Lectin Deficiency? (

Sep 2015) Omics: a journal of integrative biology
Rhoderick Machekano

Taryn Young

Willie Conradie

Lehana Thabane

.

Workshop report: Building biostatistics capacity in sub-Saharan Africa-taking action

(Jul 2015) Pan African Medical Journal
Rutendo B L Zinyama-Gutsire

Charles Chasela

Hans O Madsen

Per Kallestrup

Michael Christiansen

Exnevia Gomo

Henrik Ullum

Christian Erikstrup

Shungu Munyati

Edith N Kurewa

Babill Stray-Pedersen

Peter Garred

Takafira Mduluza

.

Role of Mannose-Binding Lectin Deficiency in HIV-1 and Schistosoma Infections in a Rural Adult Population in Zimbabwe

(Apr 2015) PLoS ONE
Bonita J Iritani

Hyunsan Cho

John Mapfumo

Shane Hartman

Denise Dion Hallfors

Educational Outcomes for Orphan Girls in Rural Zimbabwe: Effects of a School Support Intervention.

(

Feb 2015) Health Care For Women International
Shepherd Shamu

James January

Who benefits from public health financing in Zimbabwe? Towards universal health coverage (

Jan 2016) Global Public Health