Lecturer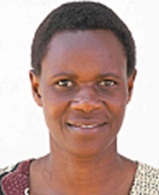 Dr Farisai Chidzwondo
Phone: +263 712 808 998
E-mail: This email address is being protected from spambots. You need JavaScript enabled to view it.
Research Interests: Plant lectins, control of gene expression, immunochemical techniques.
Dr Chidzwondo holds a DPhil in Science from the University of Zimbabwe. She is a plant molecular biologist with hands-on experience in gene sequencing, mutagenesis, expression and purification of proteins. She also has wide-ranging experience with biochemical and immunological techniques including the raising of polyclonal antibodies. Currently she is acquiring basic training in bioinformatics and biosafety. She is interested in research focused on the isolation and characterization of lectins in wild plants for use in medical research and in developing diagnostic tools for the detection of bean diseases.
List of Publications
Expression of the cDNA encoding the Pterocarpus angolensis (mukwa) seed lectin in Escherichia coli. Chidzwondo, F., De Greve, H., Van Driessche, E., Read, J.S., Sithole-Niang, I and Beeckmans, S. (2011) Journal of Applied Science in Southern Africa, in press
Potential commercialization of a microbial medium formulated from industrial food waste. Zvidzai, C., Muzhinji, N., Chidzvondo, F., Mundembe R. and Sithole-Niang, I. (2007). African Journal of Microbiology Research 1 (6), 079-087.
Biochemical and molecular characterisation of the seed lectin found in Pterocarpus rotundifolius. Marondedze, C., Chidzwondo, F., Sithole-Niang, I and Read, J.S. (2006). Journal of Applied Science in Southern Africa, 12 (1).
Mae 1 assay for scoring atrazine resistance is codon-usage dependent in legumes. Chidzwondo, F., Dietrich, A. and Sithole-Niang, I. (2000). Journal of Applied Science in Southern Africa, 6(1), 17-23.
Stabilization of rat liver mitochondrial alanine aminotransferase with ethanol and trehalose. Mukorah, F., Razunguzwa, B. and Masola B. (1998) Cryobiology, 37 (4), 30-308.
Details of current research project

Bioprospecting for anti-HIV molecules in wild plants of Zimbabwe.
Some plant species only grow in the tropical and sub-tropical climate zones. These tropical plants, particularly those of wild flora, could contain lectins of unknown and potentially interesting carbohydrate specificities and/or stability properties that might find new applications in biochemical research, glycoconjugate analysis and in medicine. This project, sponsored by the NEPAD Agency/SANBio-BioFISA, aims at producing microbicides that prevent transmission of HIV by binding viral glycoproteins.