Our Vision Mission and Values
Our Objectives

Develop and promote a programmatic approach to research and innovation for generation of knowledge products, goods and services that respond to the needs of industry, commerce and society.
Review, streamline and or introduce undergraduate and postgraduate degree and academic programmes inspired by growing demands for technological advancement, industrialization and modernization at national level and beyond.
Develop strategic partnerships to leverage knowledge-sharing, resource mobilization and investments for advancement of innovative research, outreach, teaching and business development.
Talent identification, nurturing and mentorship towards an industrialization and modernization agenda.
Internationalization of University of Zimbabwe's academic programmes, research, advisory and consultancy services.
Modernization of University infrastructure, learning and research and co-curricula facilities for improved service delivery systems and enhanced career opportunities and welfare for students and staff.
Organization, management and administration of university business for effective delivery of the strategy.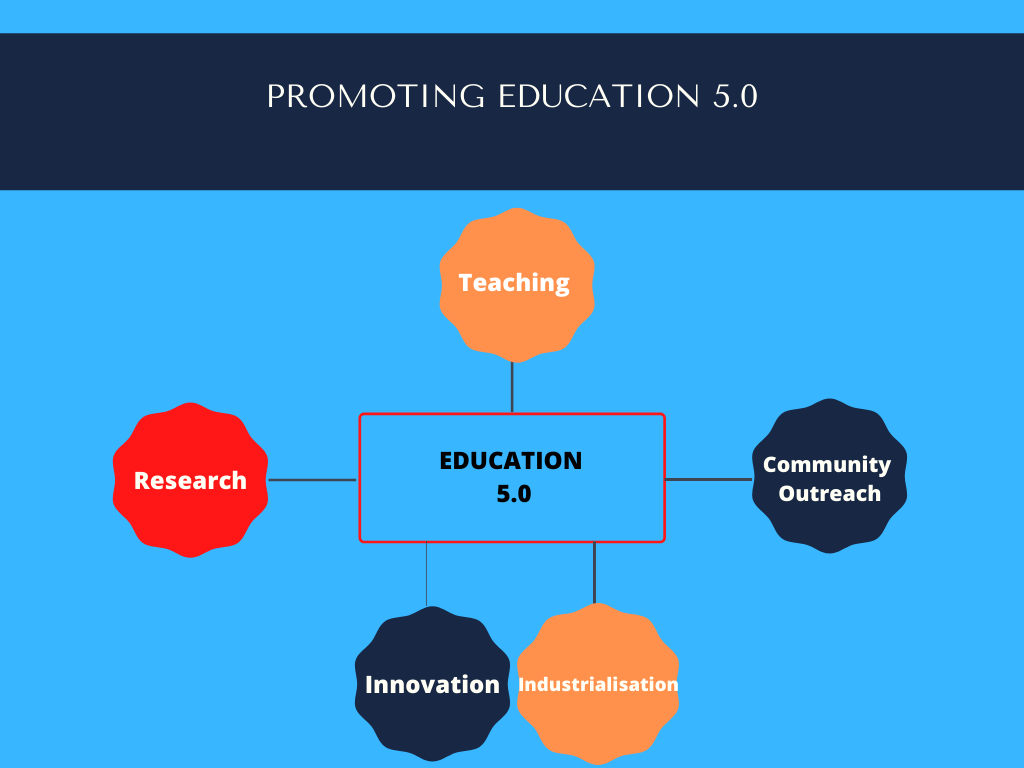 The delivery of Education 5.0 focuses on responding to the simple but critical overarching question of: How Do We Become? The question speaks to how both the institutional
vision, as set in this strategic plan, can be achieved in pursuit of a significant contribution to the national vision 2030. Recognizing that universities are defined and separated by their capabilities to provide relevant solutions to industry, commerce and society through advancement of cutting edge tools, methods, technologies, approaches and innovations, the University of Zimbabwe anchors implementation of its strategy on a simple philosophy of 'Kuziva neKugona':
Kuziva/Ukwazi: Refers to our deep Understanding and Consciousness about what defines us: our problems, our circumstances, our heritage and our opportunities. It is therefore beyond mere access to information and knowledge. Under this strategy we seek to understand:
i. What our people (i.e. industry, commerce & society) want
ii. What we want happen (i.e. what we want to cause)
iii. The architecture of university education necessary to deliver our people from poverty and take them to the next level of socio-economic development consistent with our national vision.
Kugona/Ukwenelisa: Refers to our being sufficiently Strategic and Competent to achieve the vision. The University of Zimbabwe has sufficient depth and breadth of skills and competences through its various faculties and departments to support the vision. However, successful implementation of the strategy will be moored on how the University is able to:
❖ organize and deploy its brain power;
❖ sufficiently and effectively draw on our heritage in our research and innovation processes for national development and academic foot-print;
❖ internationalize its brand;
❖ convert the needs of people into opportunities for advancement of knowledge, skills and technologies towards industrialization.
Implied strongly in Kugona is Action or Kuita. Kuita/Ukwenza refers to going beyond the theory and the talking, to delivering the actions necessary to achieve the vision (the implementation). The university should be at the centre of the action, innovatively putting research into use to generate goods and services and crafting practical industrial, business and societal solutions.