Acting Faculty Administrator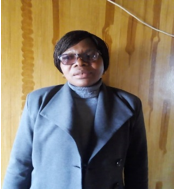 Prisca Chaurika
Qualifications: MA, MSc, MBA, BA
Our mission
To advance knowledge in our students through imparting profound and relevant technical and problem-solving skills required to generate new Information and Communications technologies and engineer people-oriented solutions to problems the world faces. To this end the Faculty of Computer Engineering, Informatics and Communication endeavours to:
Create high quality learning experiences for students through effective blended learning and opportunities for interactive engagements and collaborative research between students and faculty
Foster the development of leadership and effective communication skills in students to prepare them for impactive and progressive engagements in the work environment.
Inculcate a culture of creativity and innovativeness in students towards development of technology for social good.
Our vision
To develop the state of the art in advanced higher education training, research and innovation culminating in new knowledge generation in the multi-disciplinary computing field to meet the ever-changing needs of society.
Values
Knowledge, Diligence, Integrity, Innovativeness and Professionalism
Computer Engineering Informatics And Communications Programmes
Department of Analytics and Informatics
Undergraduate
BSc. Honours Cyber Security and Forensic Auditing
BSc. Honours Data Science and Informatics
Postgraduate
Postgraduate Diploma Information Science and Knowledge Management
MSc Data Science and Informatics
MSc Information Science and Knowledge Management
MSc IT Auditing
MSc Cyber Security
MPhil
DPhil/PhD
POST-DOCTORAL FELLOWSHIPS
Department of Computer Engineering
Undergraduate
BSc Hons. Computer Engineering
BSc. Honours Hardware Engineering
BSc. Honours Software Engineering
Postgraduate
MSc. Computer Hardware Development
MSc. Computer Engineering
MSc. Computer Software Development
MPhil
DPhil/PhD
POST-DOCTORAL FELLOWSHIPS
Department of Computer Science
Undergraduate
BSc. Honours Computer Science
BSc. Honours Artificial Intelligence and Machine Learning
BSc. Honours Cloud Computing and Internet of Things
Postgraduate
MSc. Cloud Computing and Internet of Things
MSc. Computer Science
MPhil
DPhil/PhD
POST-DOCTORAL FELLOWSHIPS
Department of Electronics and Telecommunications
Undergraduate
BSc. Honours Electronics and Telecommunications Engineering
BSc. Honours Network Engineering
Postgraduate
MSc. Industrial Electronics Technology
MSc. Telecommunications Engineering
MSc. Mobile and Wireless Communication
MSc. Network Engineering
MPhil
DPhil/PhD
POST-DOCTORAL FELLOWSHIPS