Chairperson & Associate Professor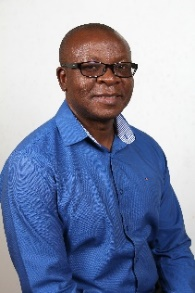 Dr Rooyen T. Mavenyengwa
DPhil. Molecular Microbiology (Norwegian Univ. of Scie & Tech, Trondheim, Norway); MSc Medical Microbiology, (UZ); (UZ); Grad CE (UZ); BSc (H) Biological Sciences
Email: This email address is being protected from spambots. You need JavaScript enabled to view it.
Professor Rooyen T Mavenyengwa joined the University of Zimbabwe, Department of Medical Microbiology in January 2002 as a Lecturer from The Biomedical Research and Training Institute (BRTI) where he had worked as a research assistant. He holds a BSc (Hons) in Biological Sciences, MSc in Medical Microbiology, both from the University of Zimbabwe in addition to a Post Graduate Certificate in Education from the same institution. He graduated with a DPhil from the Norwegian University of Science and Technology in Trondheim, Norway in 2012. Professor Mavenyengwa was promoted to Senior Lecturer Grade on 1 January 2013. He is the first African scholar to use molecular techniques to characterize Group B streptococcus (GBS) which causes infections mainly in pregnant mothers and children with a view to identifying suitable and potential vaccine candidates relevant for the local population. His pioneering work on GBS was done in collaboration with international partners from Norway, South Africa and Namibia. He has published numerous research articles in peer-reviewed high impact journals and has presented his scientific research work at local, regional and international conferences and symposia across the globe. His main research highlight is the discovery of the new surface-anchored protein in GBS called the "Z" protein. He has since published a book on molecular characterization of Group B Streptococcus. His other research interests include antibiotic resistance testing, HIV and AIDS, and other viruses of public health importance, Transfusion Transmissible infections (TTIs), Cryptococccus and Tuberculosis. Professor Mavenyengwa has received other numerous academic, research and travel awards in recognition of his outstanding contribution to Medical Microbiology scientific research. His main area of specialization is Medical Bacteriology focusing on Streptococcology and Molecular Biology which he passionately teaches to both undergraduate and postgraduate medical students. He coordinates and facilitates the training of the HIV Rapid testing course in partnership with the Medical Laboratory and Clinical Scientists Council (MLCSC). He also leads a vibrant team at the WHO-funded Zimbabwe National Virology Laboratory which is mandated by the Ministry of Health and Child Care to carry out routine diagnostic and surveillance on Polio, Rubella, Measles and Rota viruses for Zimbabwe and Malawi. He was appointed Chairman of the Department of Medical Microbiology on 1 October 2016, the appointment which he holds to date.
List of Publications
Gudza-Mugabe M Mavenyengwa RT, Mapingure MP, Mtapuri-Zinyowera S, Tarupiwa A, Robertson VJ. 2017. Antibiotic resistance in bacterial pathogens causing meningitis in children at Harare Central Hospital, Zimbabwe. Central African Journal of Medicine. 63(4/6):36-41

Samakande D, Mandisodza A, Chikwasha V, Mavenyengwa RT, Mavunganidze G, Parirewa J. 2017. Detection of malaria parasites in donated blood in Zimbabwe using the rapid SD Bioline test kit. IJRDO-Journal of Health Sciences and Nursing. 2(5):70-76

Mavenyengwa RT, Shaduka E, Maposa I. 2017. Epidemiology of Mycobacterium tuberculosis detected using the Xpert MTB/RIF assay and microscopy in Namibia. Infectious Diseases of Poverty. 6:3

Mavenyengwa RT and Nyamayaro T. 2016. Developing a curriculum for health professional students on point of care tests for medical diagnosis. International Journal of Medical Education. 7:244-245.

Monyama MC, Bolukaoto JY, Chukwu MO, Maloba MRB, Moyo SR, Mavenyengwa RT*, Nchabeleng M, Lebelo SL. 2016. Group B streptococcus colonization in pregnant women at Dr. George Mukhari Hospital, South Africa. South African Journal of Infectious Diseases. 1(1): 1-5

Lekala SM, Mavenyengwa RT*, Bolukaoto JY, Monyama CM, Chukwu MO, Nchabeleng M, Lebelo SL, Monokoane ST, Moyo SR and Tshepuwane C. 2015. Risk factors associated with group B streptococcus colonization and effect on pregnancy outcome. Journal of Gynecology and Obstetrics. 3(6):121-128.

Chukwu MO, Mavenyengwa RT*, Monyama CM, Bolukaoto JY, Lebelo SL, Maloba MRB, Nchabeleng M, Moyo SR. 2015. Antigenic distribution of Streptococcus agalactiae isolates from pregnant women at Garankuwa hospital – South Africa. GERMS. 5(4):125-133.

Niitembu JJV, Maposa I, Mavenyengwa RT*. 2015. A retrospective study of the variability in etiological agents of urinary tract infections among patients in Windhoek- Namibia. Open Journal of Microbiology. 5(4):184-192.

Bolukaoto JY, Monyama CM, Chukwu MO, Lekala SM, Nchabeleng M, Maloba MRB, Mavenyengwa RT*, Lebelo SL, Monokoane ST, Tshepuwane C, and Moyo SR. 2015. Antibiotic resistance of Streptococcus agalactiae isolated from pregnant women in Garankuwa, South Africa. BMC Research Notes. 8:364-70.

Gudza-Mugabe M, Robertson V, Mapingure MP, Mtapuri-Zinyowera S, Mavenyengwa RT. 2015. Bacterial paediatric meningitis laboratory diagnosis. Journal of Cell Science and Therapy. 6:204-9.

Makuni N, Simango C, Mavenyengwa RT*. 2015. Prevalence of bacterial contamination in blood and blood products at the National Blood Service Zimbabwe. J Infect Dev Ctries. 9(4):421-4.

Fillemon Haimbodi, Rooyen Mavenyengwa, Bruce H Noden. 2014. Knowledge and practices of residents in north Namibian towns with regard to rabies and pet care. South Afr J Infect. 29(4):141-146.

Mavenyengwa RT, Mukesi M, Chipare and Shoombe E. 2014. Prevalence of Human Immunodeficiency Virus, syphilis, hepatitis B and C in blood donations in Namibia. BMC Public Health. 14:424-430.

Johan Maeland, Andreas Radtke, Randi Lyng, and Rooyen T Mavenyengwa. 2013. Novel aspects of the Z and R3 antigens of Streptococcus agalactiae revealed by immunological testing. Clin. Vaccine Immunol. 20(4): 607-612.

Augusta I. Kvam, Rooyen T. Mavenyengwa, Andreas Radtke, Johan A. Maeland. 2011. Streptococcus agalactiae alpha-like protein 1(Alp1) possesses both cross-reacting and Alp1-specific epitopes. Clin. Vaccine Immunol. 18(8):1365-70.

Rooyen T. Mavenyengwa, Johan A. Maeland, Sylvester R. Moyo. 2010. Serotype markers in a Streptococcus agalactiae strain collection from Zimbabwe. Indian J. Med. Microbiol. 28(4):313-319.

Rooyen T. Mavenyengwa, Sylvester Rogers Moyo, Svein Arne Nordbø. 2010. Streptococcus agalactiae colonization and correlation with HIV-1 and Hepatitis B seroprevalence in pregnant women in Zimbabwe. Eur. J. Obst. Gyn. Reprod. Biol.150(1):34-8.

Rooyen T. Mavenyengwa, Jan Egil Afset, Berit Schei , Synnøve Berg, Tone Caspersen, Håkon Bergseng, Sylvester R. Moyo. 2010. Group B Streptococcus (GBS) colonization during pregnancy and maternal-fetal transmission in Zimbabwe. Acta Obstet. Gynecol. Scand. 89(2):250-5.

Rooyen T. Mavenyengwa, Johan A. Maeland, Sylvester R. Moyo. 2009. Putative novel surface-exposed Streptococcus agalactiae protein frequently expressed by the group B Streptococcus from Zimbabwe. Clin. Vaccine Immunol. 16(9):1302-1308

Rooyen T. Mavenyengwa, Johan A. Maeland, Sylvester R. Moyo. 2008. Distinctive features of surface-anchored proteins of Streptococcus agalactiae strains from Zimbabwe revealed by PCR and dot blotting. Clin. Vaccine Immunol. 15(9):1420-1424.

Rooyen T. Mavenyengwa, P Masunga, E Meque, T Kudinha, SR Moyo, L Bevanger, K Bergh, P Nziramasanga and T Mapako. 2006. Streptococcus agalactiae (Group B streptococcus) colonization and persistence, in pregnancy; a comparison of two diverse communities (rural and urban). Cent. Afr. J. Med. 52(3/4):38-43.

Rooyen T. Mavenyengwa and P Nziramasanga. 2003. Use of culture methods for recovery of atypical mycobacteria from stools of AIDS patients. Cent. Afr. J. Med. 49(3/4):31-7.
BOOKS
Rooyen T. Mavenyengwa. Molecular, Clinical Microbiology and Diagnosis of Group B streptococcus. Lambert Academic Publishing. Saarbrücken, Germany. ISBN 978-3-659-81156-2. 88 pages. 01. 12. 2015.