Chairperson's Profile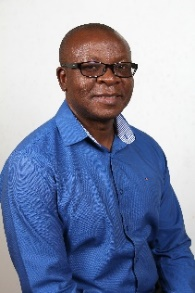 Associate Professor Rooyen T Mavenyengwa
DPhil (Norwegian University of Science & Technology, Trondheim, Norway); MSc in Medical Microbiology (UZ); Post Graduate Certificate in Education (UZ); BSc (Hons) in Biological Sciences(UZ)
Email: This email address is being protected from spambots. You need JavaScript enabled to view it.
Background
Academic staff members in the Department of Medical Microbiology have all been actively involved in research activities mostly in collaboration with external partners. The global implications of epidemiology of communicable diseases and the need for rapid and accurate diagnostic methods have been opportune developments for our microbiologists. We have had a collaborative research project between Dr R. Mavenyengwa and South African partners on the epidemiology of Group B Streptococcus bacteria that affect pregnancy outcomes in women. This involved antigenic strain characterization for comparative epidemiology with accompanying antibiotic response patterns. Dr Mavenyengwa was also involved in a retrospective study on the causes of urinary tract infections in Namibia with the University of Science and technology. Both studies had results published in 2015. The clinical providers have in recent years engaged our department in extensive investigative work in the laboratory diagnosis of agents of meningitis. We have been involved and still are in a national survey of bacterial causes of peadiatric meningitis. Prof V. Robertson and Dr W. Chaka among our members have made pioneering work on the biotyping and molecular typing of the fungus Cryptococcus neoformans. This organism has become the most common cause of chronic meningitis in HIV/AIDS patients in Zimbabwe.
This work was published in a high impact journal in 2015. The parasitology section of the department has been spearheading national parasite control programmes for the Ministry of health and Child care. In 2015 our parasitologist Prof. N. Midzi was involved in the national geographic mapping of the disease trachoma. A total of 16 districts were mapped. The mapping exercise provides information on the extent to the trachoma morbidity to health authorities. Prof. Midzi spearheaded a national programme of Mass Drug Administration for elimination of schistosomiasis and soil transmitted helminth worms in Zimbabwe. This programme was well publicized in the local press with all primary schools given schedules of drug administration dates. This age group is at high risk for both diseases. Prof Midzi will continue to spearhead this programme which will continue for 5 years. An impact evaluation will be carried out in May 2016 to determine effects on diseases burden. Another mapping was carried out by Prof. N. Midzi in 2014 to determine lymphatic filariasis commonly observed as massive limb or body swelling (elephantiaisis) in rural areas. Mass drug administration also on a national scale will begin with the first round in August 2016.
The virology/molecular section under the supervision of Professor N Chin'ombe has carried out a study on the diversity of human papillomavirus (HPV) in women in Zimbabwe. A PhD student, Mrs R. Dube-Mandishora registered at the University of Zimbabwe with our department has been carrying out this work for her dissertation in collaboration with the Department of Obstetrics and Gynaecology. Molecular biology diagnostic techniques were also used in a project on identification of Plasmodium species that cause malaria in Zimbabwe. Professor N. Chin'ombe and Dr P. Nziramasanga carried out a study in 2014 and 2015 to identify environmental non tuberculosis mycobacteria isolated from cow dung that have a potential for public health significance. The hypothesis here was that environmental mycobacteria found on grass, vegetation, soil and water would be found in cow excreta since they survive in the gastrointestinal tract. They noted the very close association of our rural people with cattle as a livelihood. Anecdotal evidence for contamination is from the common practice of handmilking cows within cowpens and the plastering of hut floors with cow dung. A wide variety of hitherto undetermined species of mycobacteria were identified using PCR techniques and molecular sequencing of DNA. The same team collaborated with the National Microbiology Reference Laboratory who had mycobacterial isolates from HIV/AIDS patients presenting with TB symptoms. They did further molecular diagnostic work on isolates that were not of the Mycobacterium tuberculosis complex and had therefore not been speciated. The virology laboratory was a key player in the National surveillance study on rotavirus and rubella virus in children with gastroenteritis and pregnant women respectively. The two studies were recently carried out in collaboration with the WHO, Ministry of Health and Child Care and the Department of Peadiatrics. Our laboratory team under Dr P. Nziramasanga performed all the diagnostic work for these projects and results were published in 2015. We were instrumental in finding out the circulating rotavirus genotypes causing gastroenteritis and diarrheoa in children.
This work was the basis for the selection of the Rotarix vaccine for Zimbabwe which was introduced into the national immunization programmes for childhood diseases in 2015. The laboratory is also part of the Polio/Measles Eradication programmes of the Ministry of health and Child Care supported by WHO funding. The team under Dr P. Nziramasanga gave reports of rubella outbreaks among suspected measles cases during routine surveillance. A rubella vaccine is now being introduced in the country. Mr Ruhanya and Mr Mamvura's earlier study on rubella in pregnant women has now become an ongoing congenital rubella syndrome study in collaboration with the Department of Peadiatrics, Monistry of health and Child Care and WHO.

Vision
The Vision for Department of Medical Microbiology is that the Department is a Progressing Centre for Excellence in the knowledge of, diagnosis, treatment and education in infectious diseases. We envision a department that will serve the Ministry of Health and Child welfare, Ministry of Higher Education Art and Culture and other Institutions with interest or health/hygiene concerns. Our Department will be a Professional Establishment with links to other similar academic and service institutions. We visualize ourselves being accessible to the public down to individual levels who need to benefit from the full range of knowledge and skills that we are developing.
Mission
To continuously provide quality teaching, engage in relevant research and timeously carry out accurate diagnosis of infections. In doing this we endeavor to produce highly competent and caring students, utilizable research information and high quality clinical service which meets the needs of the country' health institutions and beyond"
Contact Details
Department of Medical Microbiology,
B'Floor, Parirenyatwa Building,
College of Health Sciences,
University of Zimbabwe,
Box A178
Mazowe Street
Avondale
Harare,
E-mail: This email address is being protected from spambots. You need JavaScript enabled to view it.,
Telephone: 04-791631 Ext 2150